Dan rode classics for the first time in 2013,and despite a few mechanical problems with the development of new bikes, went on to finish 3rd in the 350cc Classic TT race, and became the fastest man ever to lap the TT course on a 350cc British Single Cylinder. In 2014 he finished 2nd in the 500cc Classic TT, despite the exhaust mounting rubbers breaking on lap one and him holding the exhaust on for the rest of the race. He went even faster than 2013 on the 350, lapping at 101mph from a standing start in the 350cc race, but unfortunately the bike seized at the end of lap 2. 2015 will see him riding for Team Molnar Manx at the Classic TT as well as a couple of CRMC meetings on the 4 Valve 500cc and 2 Valve 350cc bikes, hoping to improve his finishing position on last year's Classic TT.
Dan Started riding age 11, on Mini Moto's in 1998, and by 2000 was the Southern Mini-Moto champion. A Christmas present of that year was a Honda 125GP race bike, which he took to meetings at North Glos Road Racing Club. As he got faster, he began to get noticed by more and more teams, joining the Red Bull Rookies in 2003, and in 2006 won the British 125GP championship racing for KRP Race Team.
In 2010, racing for the MAP Centurion Race Team, Dan Raced at the Isle of Man TT for the first time, finishing the second Supersport race with a bronze replica. During the 2011 season Dan was involved in a major 140 mph pile up at Brands Hatch, meaning he suffered a shoulder injury, making him miss the next 3 rounds of the championship. He returned to the TT later in the year, winning 4 bronze replicas.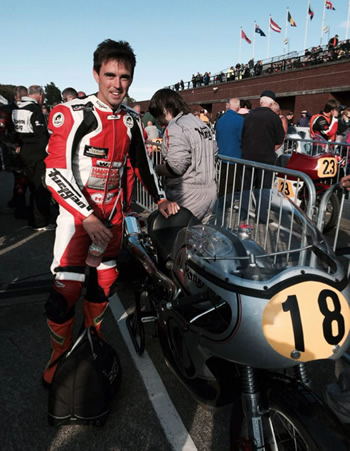 Dan Cooper